Hand Held Bladder Scanner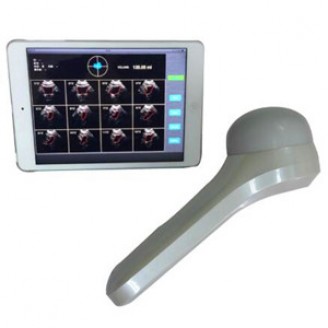 Product Code:
SAS-HH/BS
Availability:
In Stock
Price: AU$3,775.00

This product has a minimum quantity of 5
Product Features:
- Only one probe, easy to carry
- Bluetooth Wireless connection
- 4D array scan, very clear image
- High accuracy (5% inaccuracies)
- 2 second high speed scan and image processing
- No distortion to the mechanical scanning of images
- Advanced algorithm, that is more powerful with greater bladder wall recognition technology(High recognition
rate for the bladder wall with air), more accurate contour technology with a higher accuracy of
the probe making scanning results more reliable and accurate.
- The measurement results are not subject to the bladder shape and size due to advanced algorithm.
- Gender & Age selection not required along with no special consideration for hysterectomy patients.
- High precision rotary encoder, precise positioning, does NOT calibration.
- Waterproof probe
Specifications:
1. Scan mode: array probe, 4D scan;
2. Supporting system: Apple iOS, Android;
3. Measuring range: 10ml ~ 2000ml;
4. Automatic measurement inaccuracies: <5%;
5. Scan and process time <2 seconds;
6. Scanned image display frame: 10 frames / second;
7. Case Storage: by tablet or mobile phone;
8. Printing: external wireless thermal printer (optional);
9. Battery: Built-in battery, charge one time can work on more than 200 patients;
10. Power: Wireless charge or by USB cable charge;
11. Dimension: 180mm (length) × 60mm (width) × 60mm (thickness);
12. Weight: 420g.
Write a review
Your Name:
Your Review:
Note: HTML is not translated!
Rating:
Bad
Good
Enter the code in the box below: