Cardiopulmonary Resuscitation Face Shield on Key Chain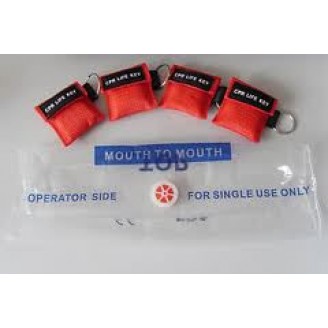 Product Code:
MK-5528
Availability:
In Stock
Price: AU$3.50

Sasyachook Face Shield, convenient to carry single-use Cardiopulmonary Resuscitation Barrier
Offering protection to both rescuer and victim when used by Cardioplumonary Resuscitation trained rescuers. Ideal for carrying every day, for inclusion with corporate Cardiopulmonary Resuscitation training courses, and in first aid kits.
Helps overcome hesitation to start resuscitation
Helps prevent direct contact with victim's mouth, nose and face
Plastic sheet and hydrophobic filter helps prevent possible contact with victim's saliva or blood
Bi-directional filter, and imprinted graphic directions for use
Comes in a small soft pouch with key chain
Latex-free
Provided by all good first aid courses, the CPR Mask can assist with Cardiopulmonary resuscitation (CPR). The Sasyachook Face Shield is especially designed to be used by the professional rescuer and first aid responder in providing mouth to mouth resuscitation through the mask. Supporting the guidelines for cardiopulmonary resuscitation (CPR), it offers superior protection for both the rescuer and the victim. Working with the cardiopulmonary resuscitation procedure, The Sasyachook Face Shield provides a low resistance one-way valve with a disposable filter to help prevent any cross contamination.

An emergency requiring CPR Resuscitation can occur at anytime, anyplace and to anyone. It's good to know that the Sasyachook Face Shield can always be there when you need it! It can be carried with you at all times in your pocket, in your car, on your boat or in your travel first aid kit.

The CPR Mask has advanced protection through a one-way valve and filter

The CPR Mask can be used on an adult, child or infant

The CPR mask is Latex-free
Video for Cardiopulmonary Resuscitation (2010 Guidelines for CPR)
Write a review
Your Name:
Your Review:
Note: HTML is not translated!
Rating:
Bad
Good
Enter the code in the box below: