Hand Held Pulse Oximeter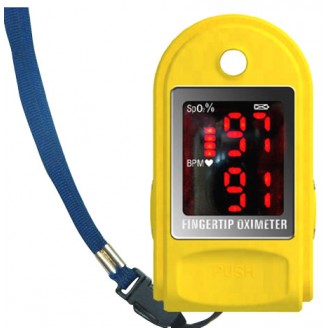 Product Code:
MK-5540
Availability:
In Stock
Price:
AU$232.00
AU$99.00
Hand Held Pulse Oximetry Monitoring
Pulse oximetry is a non-invasive method allowing the monitoring of the oxygenation of a patient's hemoglobin.
A sensor is placed on a thin part of the patient's body, usually a fingertip or earlobe, or in the case of an infant, across a foot. Light with red wavelengths and light with infrared wavelengths is sequentially passed from one side to a photodetector on the other side. Changing absorbance of each of the two wavelengths is measured, allowing determination of the absorbance due to the pulsing arterial blood alone, excluding venous blood, skin, bone, muscle, fat, and (in most cases) fingernail polish. Based upon the ratio of changing absorbance of the red and infrared light caused by the difference in color between oxygen-bound (bright red) and oxygen-unbound (dark red or blue, in severe cases) blood hemoglobin, a measure of oxygenation (the per cent of hemoglobin molecules bound with oxygen molecules) can be made.
Technical specifications:
Outer Shell Product Colour: Blue
Display Format: LED Display;SpO2 Measuring Range: 0% - 100%;Pulse Rate Measuring Range: 30 bpm - 250 bpm;Pulse Intensity Display: Column displayPower Requirements: 2 × 1.5V AAA alkaline battery
Power Consumption: Less than 25 mA.Resolution: 1% for SpO2 and 1 bpm for Pulse Rate.Measurement Accuracy: ± 2% between 70%-100% SpO2
Measurement Performance in Weak Filling Condition: SpO2 and pulse rate can be showncorrectly when pulse-filling ratio is 0.4%. SpO2 error is ±4%, pulse rate error is ±2 bpm or ± 2% (select larger).
Resistance to surrounding light: The deviation between the value measured in the condition of man-made light or indoor natural light and that of darkroom is less than ±1%.
It is equipped with a function switch. The Oximeter can be powered off in case no finger is the Oximeter within 5 seconds.
Optical Sensor
Red light (wavelength is 660nm,6.65mW)
Infrared (wavelength is 880nm, 6.75mW)
Write a review
Your Name:
Your Review:
Note: HTML is not translated!
Rating:
Bad
Good
Enter the code in the box below: